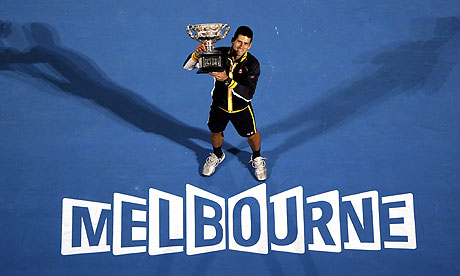 1. The changing of guards is clearly imminent. Be prepared to witness the blossoming rivalry between Murray and Djokovic…in many more Grand Slam finals to come. even Federer was clearly overwhelmed by Andy's pace and stamina in the semis.
2. We need Nadal to come back! You need proof? Just check out the semi-final where 'stand-in substitute' David Ferrer was easily demolished by Djokovic. The beating was just so ugly I cuoldn't help but feel sorry for Ferrer, who was clearly not in the same league as the current top 4.
3. Having a 'wake-up call' match in the early rounds is sometimes just what the doctor prescribed! After Djokovic's marathon 5-setter over Wawrinka in the 4th round, his game and fitness seemingly became better and better!
4. On the other end of the spectrum, demolishing opponents and cruising through the early rounds without any tough matches may not necessarily be a good thing. Just ask Serena Williams or Maria Sharapova…
5. The press can really have a field day if you give them the opportunity to. When Azarenka apparently 'cheated' in her semis against teenage sensation Sloane Stephens by calling for a very 'timely' medical time-out, the condemnation of her actions went viral globally! Personally, I don't think she cheated because she managed to collect herself and proceeded to claim victory in the final against Li Na. My theory is that if she indeed did something wrong, she would have easily buckled under pressure of the press and crowd during the final.